This unique design oak wood desk organizer has 5 sections/boxes that are put on a wooden platform. You can rearrange all sections in the most comfortable way, so you will have all your small necessary things, credit cards, pens, pencils, and phone perfectly organized right where you need them on your desk.
Desk organizers can be also personalized according to your wishes, with your selected words, name, or logo. You can pick any language or font for your text. That way, this one-of-a-kind desk organizer will become an absolutely unique gift to yourself, your family member, business partner, or just someone you care about.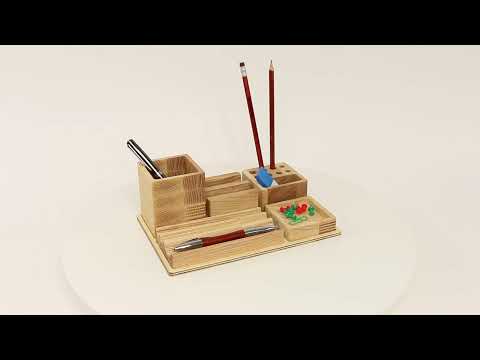 Handmade oak desk organizer - Gift idea
Video will open in a new window
Using the eBay App? Paste link into a browser window:
MATERIALS:
The desk organizer is crafted from a single glued piece of ash wood, designed and made in our workshop using a CNC milling technology. 
MEASUREMENTS:
23x15.5x8.6cm / 9x6.1x3.4"

WEIGHT:
580 g. / 1.4 lb
ITEM ID:
ORG502
Made and designed in Lithuania